Support Blowcomotion!
Sharing music with others can transform lives. We build musicians and provide them with a community to play with. But now we need your help!


Blowcomotion is a 501(c)3 non-profit corporation and is supported in part by the Cultural Arts Division of the City of Austin Economic Development Department. We have started a Patreon campaign to continue to hire music instructors and to purchase and refurbish loaner instruments for new musicians. Please consider donating!
About Blowcomotion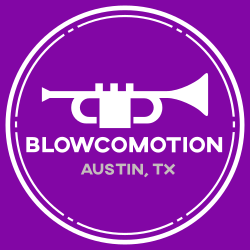 Blowcomotion is a
Community Brass Band Learning Workshop
. We welcome folks of all musical abilities.
We believe that you can always dust off that old tuba from high school, learn a new instrument, or pick up music for the first time entirely, even if you didn't have that chance as a kid. Come to Blowcomotion to learn music or just to play! We welcome adult players of all skill levels, even total beginners.
Blowcomotion Rehearsals Continue! (Virtually)
We are continuing to host weekly sectionals and practice using BandLab. We meet as a whole band the first Tuesday of every month at 7pm  via Zoom to chat and play along to our songs.
Please make sure you are on our mailing list so that you do not miss the lessons. Contact us to join!