STILL SUMMER — SEPTEMBER 2020

Welcome to the Blowcomotion Newsletter!
Announcements and Class Updates – JOIN US!!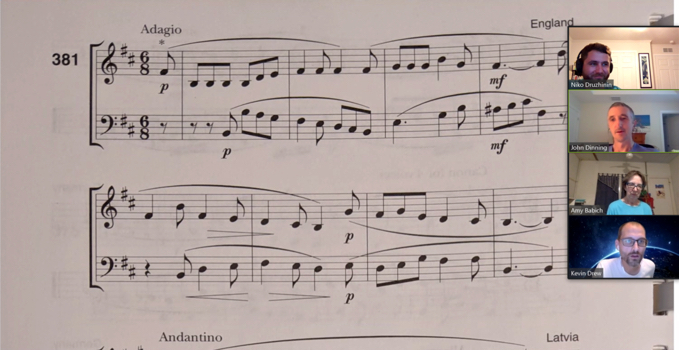 Well, it's hard to believe we have not been able to practice as a band, in-person, since March. It is the safe, right thing to do, but WE MISS YOU!! We are keeping our fingers crossed that someday soon we will be able to be playing together somewhere in Austin.
Until then…..join us ONLINE. Based on input from our band members, we've made a few changes to our online playing. The first Tuesday of each month, the ENTIRE band is meeting via Zoom to chat and play along to our songs. Before each song, our instructors point out a few things to help us improve our playing.
The remaining Tuesdays of the month, we meet in our instrument sectionals. Each of the sectionals are run a little differently. The Low Brass sectional has been doing sight singing exercises. If you want to work on your music reading skills, please come to the Low Brass Sectional and John will help you.
The High Brass Sectionals meet twice a week – Tuesday and Wednesday evenings at 7 p.m. Also Omar is discussing holding a class on music composing and arranging.
Both the Woodwind Sectionals and the Percussion Section are still meeting on Tuesdays at 7 p.m.
The sectionals are open to everyone – if you play the saxophone but want to come to low brass for sight singing – it's OK. The Zoom information for the sectional is sent out by various Zoom hosts. If you are interested in attending any of the sectionals, please email blowcomotion@gmail.com and let us know which sectional you are interested in attending. Your request will be forwarded to the appropriate host. Look for an email about 5 minutes before the meeting is to start.
Honk!TX – How I Honk!
On August 30, Honk!TX put together a great online show – if you haven't seen it , you can check it out here: https://www.facebook.com/watch/?v=1007314976349501&extid=WJq0vbW7tedxJxxu). There were a lot of amazing videos of Honk bands. One of the highlights was one of our former instructors, Lauryn Gould, who sang and played soprano, alto, tenor and baritone saxophones in her video. Another interesting submission included interviews of a number of musicians about their Honk!TX experiences. Highly Recommended.
Honk United!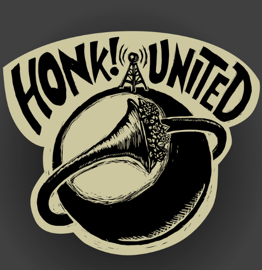 Along the same lines as the online Honk!TX experience, Honk (Somerville MA) is going online on October 10 and 11. Blowcomotion will be submitting videos of Varga Varga with Vibrass and Flashlight. Flashlight should be fun – our members submitted videos and Thom Proctor has put it all together!
If we can't play together, watching Honk bands online is the next best thing. It is fun seeing all the bands and our friends, but it really makes us long to be able to play together. Honk!TX 2021 should be lots of fun, right?
New Instruments
Thanks to everyone's support Blowcomotion purchased more instruments for its instrument lending program. We have added a french horn, a flute and of course, another trombone.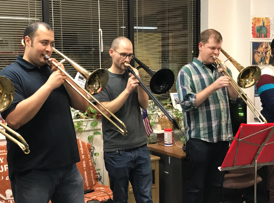 If you find some unused band instruments in the back of your closet, please consider donating to us.
To borrow one of the Blowcomotion instruments, please email us at blowcomotion@gmail.com for instrument availability and requirements. Because we are adding more and more instruments, we have instituted a lending policy and agreement.
Fundraising
Our Patreon page has been really successful and we greatly appreciate those who have joined. As we've mentioned before, almost all of the money we raise is used to pay our instructors (the remaining goes toward things like our website, insurance and instruments). To access our Patreon account, you can go to https://www.patreon.com/blowcomotion. Patreon levels begin at $5 per month.
Blowcomotion is also listed as a charity on Amazon Smile. If you use Amazon and don't already have a designated charity, would you please consider designating Blowcomotion? Just go to Amazon Smile, and search for Blowcomotion.
Volunteer with Us
The group that keeps Blowcomotion moving is composed of volunteers. We are dedicated to seeing Blowcomotion grow strong, but sometimes we can't do it all. We would love to have some help.
The Board has created the following committees: Fundraising (includes grant writing), Marketing, Community Outreach and Curriculum. Most of these committees only have two members so if you are interested, email us blowcomotion@gmail.com.
OUR INFORMATION
Reach us at blowcomotion@gmail.com
Facebook: http://facebook.com/blowcomotion
On the web at www.blowcomotion.org
*************************************************************************************************************
Blowcomotion is a nonprofit corporation and has received a 501(c)(3) tax exemption from the Internal Revenue Service. All donations are tax-exempt. Blowcomotion greatly appreciates your financial and instrument donations.